Mini 6.50 Offshore Racing Headsail assembly
Portrait of a Mini 6.50 headsail
See how Mini 6.50 headsails are built. The zip option is available on offshore solents.
All our sails are designed and manufactured in France, in All Purpose sail lofts.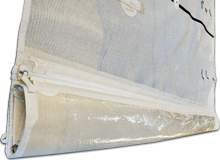 Zipped reef
Offshore racing solents can be fitted with a zip. This ensures good foot shape while sailing.
When sails are reefed, the fabric below the reef takes a battering. With this solution, the whole foot of the sail is protected.
There is a strop at the reef clew to prevent the zip from opening. The zip is plastic to prevent oxidation.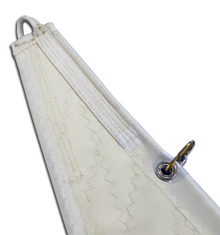 Shackles
For the luff, there are numerous options: soft hanks, tenax, Wichard shackles, or piston shackles depending on your preference.
The luff bolt rope is fully integrated into the luff to prevent the eyelets from slipping.
There is an additional Dacron reinforcement beneath each eyelet for the same reason.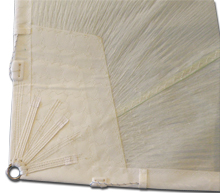 Clew
The clew webbing radiates out to spread the load from the leech to the foot.
The leech line and foot line are fitted with elastic to prevent them from catching on anything during manoeuvres.